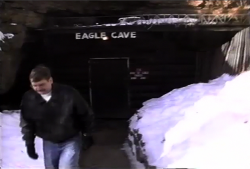 A long time ago (1997, to be exact) in a land far, far away (somewhere in the wilds of Wisconsin) a great adventure took place. The Boy Scouts of Melrose Troop 68 visited a location known as Eagle cave. They spent the weekend crawling, exploring, and getting pretty dirty as they found all the tunnels and crevices within the cave. In other words, they had a great time. This video will give you a small sample of the Scouts' adventure at Eagle Cave.
This is the first of a three part series of the 1997 trip to the cave.
Click here to DOWNLOAD and watch this Podcast
or watch it at MSPP channel at PTC Media.
Subscribe to Melrose Scout Productions Podcast through iTunes (and rate the show)
or at http://feeds2.feedburner.com/melrosescoutingproductions
Leave feedback here, at iTunes, or on the forums at PTC Media.