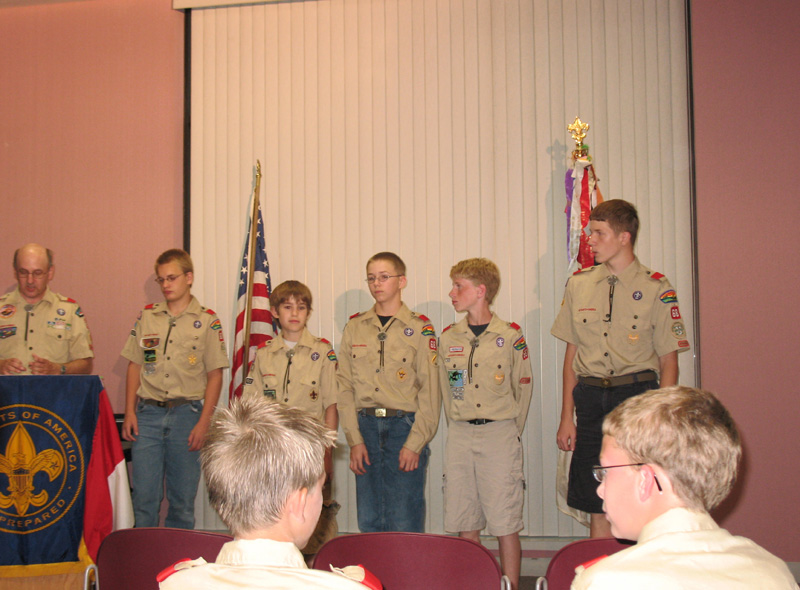 The first requirement for the ranks of Star, Life, and Eagle is to be active in your troop and patrol for at least 4 or 6 months as the previous rank. This is a pretty vague requirement and can be one that troop leadership can struggle with sometimes. What does it mean to "be active" in the troop and patrol?
The national BSA website states:
"A Scout is considered to be active in his unit if:
He is registered in his unit (registration fees are current).
He has not been dismissed from his unit for disciplinary reasons.
He is engaged by his unit leadership on a regular basis (Scoutmaster conference, informs the Scout of upcoming unit activities, through personal contact, and so on).
The unit leaders are responsible for maintaining contact with the Scout on a regular basis. The Scout is not required to attend any certain percentage of activities or outings. However, unit leaders must ensure that he is fulfilling the obligations of his assigned leadership position. If he is not, then they should remove the Scout from that position."
Okay, that made things crystal clear, didn't it? I think that statement made things even more confusing for scoutmasters and troop leaders. Let me explain my view on this BSA statement.
If you read this as the "letter of the law", a Scout only needs to be registered to "be active". He does not need to attend any troop meetings or troop activities. It seems to be the scoutmaster's and unit leadership's job to contact him and tell him what the troop has coming up, but gosh, he does not need to attend them. Um, excuse me National Office, but how is a Scout to be considered active if he does not attend meetings and outings? (Keep in mind, I am only writing about being active, not about his position of responsibility.)
I understand National's statement of "The Scout is not required to attend any certain percentage of activities or outings." Every Scout is not going to make every meeting or activity. A youth in Scouting is usually active in other groups and activities. If he is in sports then practice and games will conflict with Scouting. Family schedules conflict with Scouting. Even homework can get in the way of attending a troop meeting. So yes, I agree that we cannot impose a percentage requirement on attendance.
When I meet with new Scouts, and Scouts during their Scoutmaster's Conference, I tell the boys, and parents, that I would like them to set a goal of attending at least two thirds of the troop meetings and at least half of the outings. This is a goal, a guideline, for the boys to follow. An example – I have had several Scouts over the years that have been involved in high school hockey. They sort of disappear from Scouting during those three months of the season. But they still try to make meetings and activities when they are able to. This is a sign to me that they want to be active in the troop. Once the season is over they return to the regular schedule. I can live with that.
According to this statement from National, it seems that a Scout would never have to attend a meeting or activity to qualify as being active in the troop. Sorry, but I do not agree with that. It is not fair to the boys who are active in the troop. A Boy Scout must make an attempt to attend meetings and activities. Would a coach allow a player to play in the game if he never showed up for practice? Would the the school allow a student to letter in an activity if he did not participate in that activity? Would an employer keep employing a young man if he did not show up for work when he was scheduled? No, no, and no.
Part of the Scouting program is to teach the boys responsibility. A Scout needs to attend troop functions, or at least make a good attempt to do so. If a Scout does not want to actually be active in the program then he needs to make a decision whether to continue his membership. Sorry National, I am not signing off a boy just because he is registered and because I talk to him a few times. A Scout will need to attend troop meetings and functions, not just meet with merit badge councilors, if I am to sign my name to that advancement form.