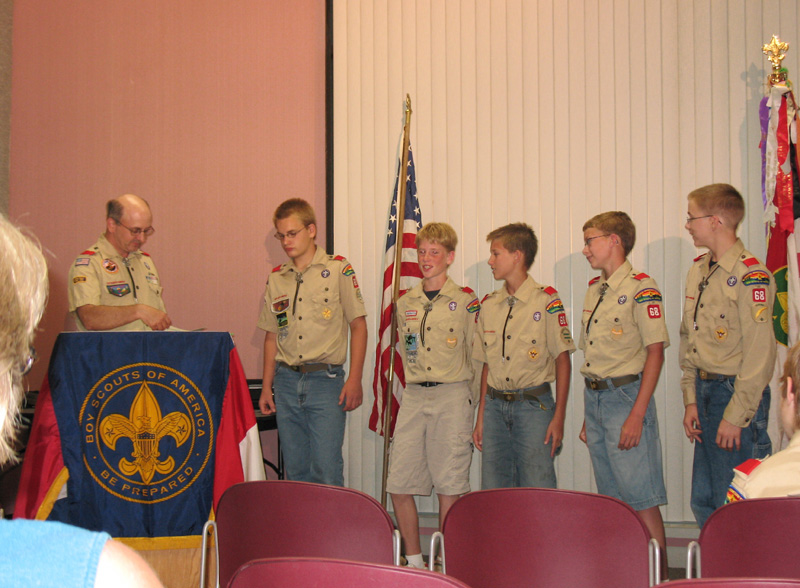 Ah, the troop court of honor. The quarterly award night. Time to recognize accomplishments. Time for the Scouts to shine before their family and friends.
The Boy Scouts and families of Troop 68 usually have a good time during our courts of honor. After twenty-five years the troop has an agenda and format set. We try to have a mixture of fun and seriousness as we go through the ceremony.
We begin the court of honor with the presentation of the colors, a patriotic ceremony, a Scouting-related ceremony, and an invocation by the troop chaplain. Then we begin the presentations with the recruitment patches, year pins, and other such awards. This is followed by the recognition of merit badges that have been earned since the last court of honor.
This brings us to the "half way" point of the evening. The Scouts provide entertainment by performing a skit or song, or we could play a brief game, like a trivia contest between the Boy Scouts and their parents.
It is time for the presentation of the ranks. The Scout is asked to escort his parents to the front of the room. We usually use the various rank ceremonies found in the Woods Wisdom book. I will then present the rank patch, card, and pin to the father so that he may then have the honor of presenting it to his son. The Scout will then take the pin and pin it to his mother's shirt or scarf. This way we involve both parents in the ceremony. By the way, if the mother is not able to attend the ceremony then the Scout pins the pin on his father's shirt.
The final awards presented are two troop recognitions. The Progressive Scout Award is given to the Boy Scout who has earned the most advancement since the last court of honor. The Progressive Patrol Award is given to the patrol with the most accumulated advancement, with a minimum of at least two boys showing progress. Both awards are certificates, but the Progressive Patrol Award also comes with a twenty dollar credit for the patrol to use for a patrol activity held before the next court of honor.
The court of honor ends with a closing ceremony and the retiring of the colors. After a few announcements we make our way to the table where the juice is waiting to be drank and the cookies are waiting to be eaten. Of course, parents and families members get to eat and drink first. Sometimes, the way the boys rush to the tables, I think the refreshments are the main reason we hold the court of honor.
Happy Scouting!