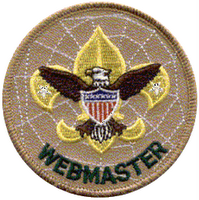 I am a webmaster! That does not mean that I am a cousin of Spiderman or some sort of superhero. It does mean that I have created a website. A website that has become a monster. A monster that is getting harder to control.
I began creating the Melrose Boy Scout Troop 68 website after several talks with Dave. Dave was a member of Troop 68 for six years. He was always interested in computers, and after college he began his own business which included internet and server support. Dave agreed to set things up for a troop website if I agreed to take care of it and keep it updated.
I decided early on that I had no desire to learn html. If I was to create this website I needed a wysiwyg program that would write the html for me. Luckily, I found a free program to do this called Netscape Composer. A few years later I switched over to Nvu and still use that today. Both programs are very basic, but that is all I really wanted. I have no desire to put all those new annoying web doodads on the site.
The next step was to decide what should be included on the site. It began with photo galleries, newsletters, rosters, high adventure reports, and a bulletin board for troop members to keep in touch with each other. It has since expanded to include videos, games, this blog, and a podcast.
The site is now a monster that includes over 200 pages of information, dozens of videos, and thousands of photographs. It covers 30 years of Boy Scouting in Melrose. I would be willing to bet it is one of the largest Boy Scout troop website on the internet.
A website of this size demands a lot of attention. Spammers are constantly trying to enter the forums and must be cleared out on a regular basis. The photo galleries need to be updated after each event. I try to post at least a couple blog entries each week, and post at least one or two videos to the podcast each month.
It takes time to do this, and unfortunately, I am starting to fall behind. This year's photo gallery needs to be updated, and a few yearly galleries still need to be created. I need to update the advancement review pages and the roster pages. (Don't worry, I do not use the full names of the current Scouts, or place their phone numbers or addresses online.) I know there must be a few dead links within the site that need my attention.
Yes, it is a lot of work, but I think it has been worth it. Troop alumni are able to keep up with current troop events, and are able to take a trip down Memory Lane as they view the galleries. Other Scouts and leaders from around the country, and around the world, have visited the site and sent me emails to tell me they have enjoyed it and found a few useful ideas to use in their own troops.
Yes, it has become a monster. But it is my monster, one of my own creation, so I really have no one to blame for it. The site has changed a lot over the years. It is something I am proud of. I invite you to check it out at http://melrosetroop68.org. Write a note and let me know what you think about it.