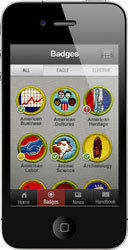 It looks like Boy Scouts with iPhones and iPod Touch's will soon be able to keep track of their merit badges on their devices. According to scoutingnews.org:
Beginning in early 2011, Boy Scouts will be able to manage their merit badges with an interactive application for the Apple iPhone. The application which will be available for $1.99 through the iTunes Store, will let Scouts review merit badge requirements, keep track of their progress by requirement, and even share their success on Facebook.
I can see good points and bad points about this. It may be good for the boys to have a "tech" way to keep track of advancement other than carrying around a handbook which never seems to be very handy. It might not be so good because many troops have a "no phones or electronic devices on outings" policy. This could create some conflicts.
It will be interesting to see if this will become a popular download for the boys. I also wonder if they will be creating an app for Android based devices.
Read the whole news story at
http://www.scoutingnews.org/2010/12/15/merit-badges-iphone-app/ .