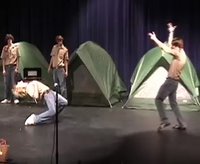 The Boy Scouts of Troop 68 in Central Minnesota Council have a tradition of performing for others enjoyment. They have performed at campfire programs, council camporees, summer camp programs, and community events. For over ten years the troop has held an annual Laughs For Lunch Show during which they basically do a ninety minute campfire program. This program is open to the community.
The show held in 2006 was one of the best shows the troop has ever held. Luckily for all of us, it was videotaped on digital tape which makes it easy to break down and put on the web. This podcast will be showcasing some of these skits over the next few months.
Today's post to Melrose Scouting Productions Podcast is The Movie Skit. This skit has become a favorite of the troop's, not only to watch but also to perform. The Scouts have a great time with it and are always trying to come up with new ways of "performing" it. The first three "takes" basically set up the skit. After that it is anything goes. The troop has also tried a couple ways to end the skit. I do not want to give away the ending, or punchline, so you will have to watch this one yourself.
All the members of the group in this skit have graduated from high school and are currently in college. I know they all have some great memories about Scouting. Four of the six Scouts did earn their Eagle Rank. Many of them attended Philmont Scout Ranch. But I think the Laughs For Lunch Shows will always be one of those Scouting experiences they will remember for years to come.
Enjoy it and let us know what you think of it by leaving a comment.
Download Podcast
Watch Video on the troop's website.
Subscribe through iTunes.