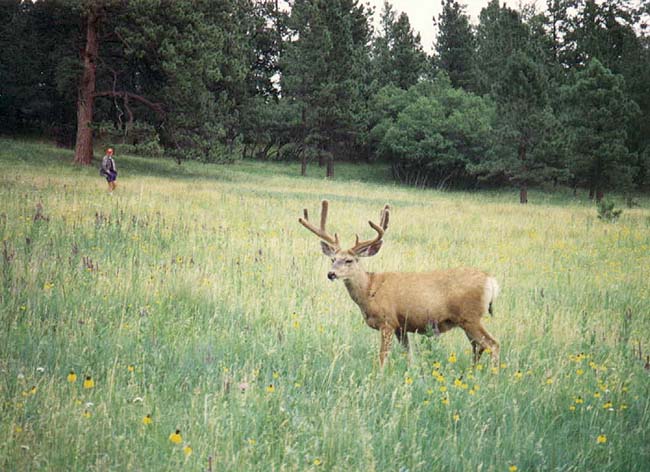 (This is part 3 of one of the worst days I had at Philmont Scout Ranch. Amazingly, it ended pretty well.)
Wednesday, August 5, 1992, Day 8
A buck, two does, and a yearling are grazing in the meadow that borders the east side of our site. Tom is trying to in get close for a good shot with his camera. Corey has grabbed mine and moves in on the yearling. The fawn avoids him but the nine point buck moves closer. Tom sneaks around behind the buck and tries to steer him closer to Corey. We are going to have many pictures of deer when we get home.
The excitement never ends. Jason's water bottle has been attacked by a chipmunk. Greg and Paul keep pushing the blame on each other for the sticks being thrown at each other. I wish they would shut up and drop the subject. It is shortly after 5:30 when the crew gathers around the campfire ring. For the last two days Al has been working on his version of how Santa Claus Camp got its name. It has developed into a full fledged story. The group grows quiet as he begins to tell his tale.
Suddenly, Peter yells. A chipmunk screams. That is right, screams! Everyone turns to see Pete standing halfway up the hill holding a rope in his right hand. Hanging, and I do mean hanging, from the rope by its neck is a chipmunk. Peter has finally caught one after patiently waiting with the noose lying over the burrow hole for the last fifteen minutes. The poor little creature is squirming around like crazy, trying to get get out of its predicament. Finally, after a few seconds, the noose loosens enough for the critter to fall to the ground. In a flash it vanishes. We are not bothered by mini-bears any more that night.
The laughter dies a few moments later and Al once again begins the story of Santa Claus Camp. Al has written an excellent story. The crew agrees. The meadow is a popular place with the deer this evening. There are even more of them grazing. Maybe they wanted to hear the story of old White Cheeks too.
Supper was pretty good but several scouts are complaining that there is not enough food. Josh seems to be near starving. If this is any indication then the Spoden monthly grocery bill must be in the thousands of dollars.
Several of us sit around they campfire and discuss world matters after supper. Others go to the edge of camp to watch the nine deer that are grazing. Four of them are bucks. One of them has a very nice rack on his head. Tim can't believe what he sees. He sits there with his back against a tree and just watches them.
This is part of the magic of Philmont. Even in today's fast paced electronic age boys will sit for over a half hour and watch the deer as they graze only twenty feet away. There are not many places left where a person can do that anymore.
Greg, Nathan, and Paul walk down to the showers. They want to get some of the Philmont grime off their bodies. Tonight we have our first campfire. Ross seems to the one who actually wanted it. We all sit around it and enjoy its warmth for the next twenty minutes.
It is time to do Roses and Thorns. Most of the crew agrees that the last thirty minutes of today's hike was the thorn. Josh and Tim choose their rose and thorn as there being only three days left. Corey surprises everyone by naming today's hike as his rose. Greg's rose is taking a shower and being clean again. My thorn is the 'thirty minute' hike. My rose is the end of the 'thirty minute' hike.
Most of the crew is in bed by 8:45 p.m. Al, Ross, Pete, and Jason stay up a bit longer to enjoy the fire. The evening is turning cool.