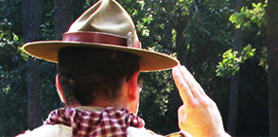 I, like many Scouters, read several Scouting related blogs. One of them, Scoutmaster, found at http://scoutmaster.typepad.com/my_weblog/ , recently posted a survey featuring questions about the Scout program in this electronic age. How does your troop use computers, cell phones, and mp3 players? It caught my attention so I took the survey.
Our troop has a policy that asks the boys to leave their mp3 players and cell phones at home when we have a troop activity, like a camping trip. The adults will usually have one cel phone along in case of an emergency, but we ask that they do not use it and set a good example for the boys. If our trip is a long distance from home, we do allow the boys to bring their mp3 players along, but we store them in the car once we arrive at camp. I have talked to several local Scouters who have a troop policy similar to this.
I am curious as to what the results of Clark's survey will be. I bet he will be sharing them on his blog and his podcast. You can take the survey at Scouting in the Electronic Age.