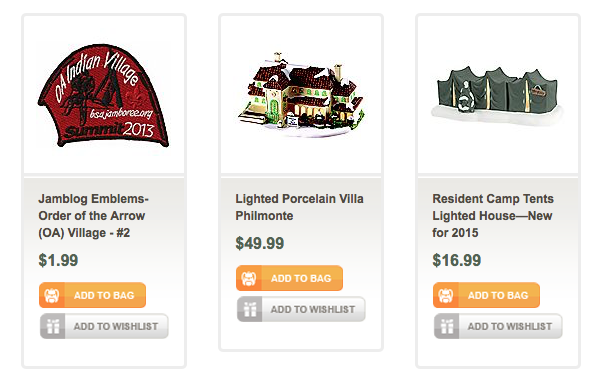 If you have been reading this blog for a few years you realize that I have been collecting the BSA Scouting Village pieces as they come out each year. After writing yesterday's article about the Christmas In July Sale, I thought I would check if the 2016 pieces were listed online. I know it is early, but you never know.
I did not find any new items listed but I was surprised to see two of last year's pieces still listed. Usually the pieces sell out before the end of the holiday season so I was surprised to see the Resident Camp Tents Lighted House still available. I was not as surprised to see the Lighted Porcelain Villa Philmonte still listed since it was a very expensive piece. It was the piece I almost did not purchase last year. So. you still have a chance to add these pieces to your Scouting Village collection before the 2016 pieces arrive, which I guess might be in late August or September.
By the way, I also checked the Walmart website since I found a really nice "vintage village" set last year. Nope, nothing listed for this year yet, except for some tree ornaments.