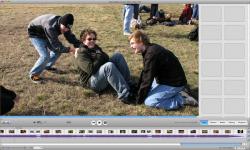 I sat down with Dakota, the troop's next Eagle Scout, this weekend to begin work on the slideshow presentation that will be shown at his court of honor next month. We quickly discovered this was not going to be as easy as past slideshows. In fact, it was going to take awhile to put this one together.
Dakota joined the troop about the same time that I switched to digital photography and left film behind. That means I have a lot more photographs of Dakota than any other Troop 68 Eagle Scout to date. In the past, I would have several dozen pictures to pick from. With Dakota, I had over 800! By the time we finished narrowing down the number we still had ninety pictures that would be good to use in the slideshow. Past slideshows only used 30-50 pictures. Previous slideshows were 3 to 5 minutes long. This one would be a lot longer if we were to use them all.
I left the final decision to Dakota. After all, it was his court of honor. He really did not want to drop any of the photos. Okay then, it was time to choose the music. I thought he would choose a couple country songs for the presentation but he surprised me when the first song he picked was a song by KISS, Rock And Roll All Nite. The second song he choose was Young, by Kenny Chesney. These two songs gave us nearly seven minutes, but since I like to transition the photographs to the beat of the songs I realized this would not be enough. We needed one more short tune. Dakota started looking through the song collection and surprised me one more time when he chose Bird is the Word, by The Trashmen.
Three completely different songs within one Eagle Scout slideshow presentation! I shook my head. I did not know how this was going to turn out but Dakota seemed to think it would provide a few laughs for the audience. I could not argue with that.
Over the next one couple hours, with Dakota sitting next to me, I began to edit the slideshow. It is finished except for the last picture, a photo of Dakota in his Scout uniform. I have to say, even though the presentation will be about ten minutes long, I think it is going to keep the audience's attention. It will provide a few giggles.
Dakota has decided that only he and I will see the slideshow before the court of honor. Even his parents will have to wait. I hope everyone enjoys it. I plan to post it to the Melrose Scout Production Podcast next month, after the ceremony.
100 Days of Scouting: Day 27 .