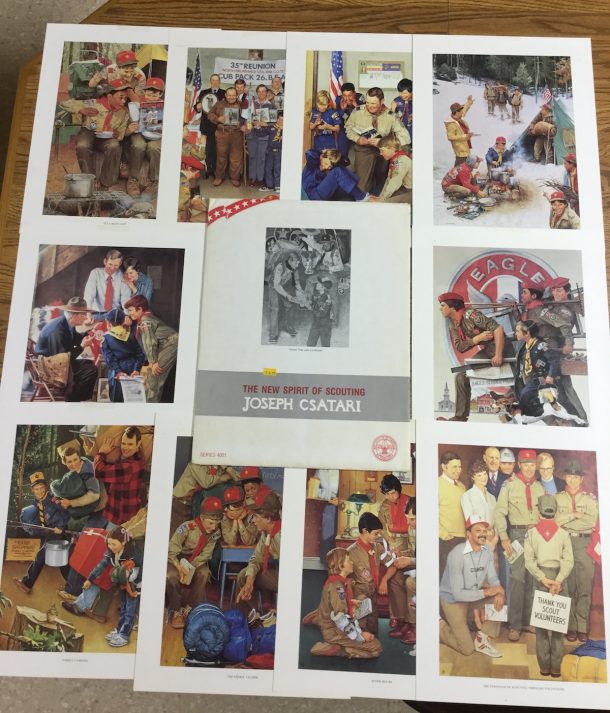 The Norman Rockwell reprint set I wrote about in the last post is not the only Scouting print set I own. I also have The New Spirit Of Scouting set featuring ten paintings of Joseph Csatari. These prints are also 11″ x 17″ and are great to have as part of my collection. Once again, I did use them in some displays, but since they are newer I did not use them as often. They are in much better shape than the Rockwell print set I have.
I love the Joseph Csatari paintings nearly as much as Norman Rockwell. He is a fantastic artist. You can easily see that Joseph was paying attention as he learned from the master. While the Rockwell prints captured the early days of Scouting, Csatari's paintings capture more of today's spirit. During his 60-year association with the BSA, he created more than 150 Scout-themed paintings and drawings. Did you know that his permanent Boy Scout collection of paintings is housed alongside Norman Rockwell's at the National Scouting Museum? That is one more reason that I need to make a trip to the museum someday.
I wish the national Scout Shop would sell the Rockwell and Csatari print sets again. I bet there are a lot of current friends of Scouting and Scouters that would buy a set for themselves or as gifts. I would probably buy all three sets myself just so I could have an unused set of each in my collection.
Which one of the ten is your favorite? Do you or someone you know own this set? Leave a comment below.