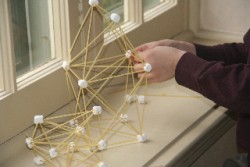 The Cub Scout Meeting.
I went to Cub Scout Pack 68's pack meeting tonight. At least, I thought it was a pack meeting night. You could say it was more of a den meeting involving the whole pack.
The pack meets at the meeting room at the city firehall. Two volunteer firemen were there to give the Cub Scouts a tour of the firehall and show them the various fire trucks. The boys' attention spans were short tonight so we quickly moved from one truck to the next. The tour ended with a chance for the boys to sit in a couple of the trucks. They really enjoyed that.
The second part of the meeting paired the boys were their fathers (or one of the fathers if their own was not able to make it.) The groups were given uncooked spaghetti and large  marshmallows  and told to create towers. It was like playing with a cheap tinker toy set. The dad's help the boys to understand the need for diagonal bracing to create stronger "structures". Some teams created tall towers while others creates strong structures that could carry nearly a pound of rocks before collapsing.
To tell the truth, I think the dads had just as much fun as the Cub Scouts.