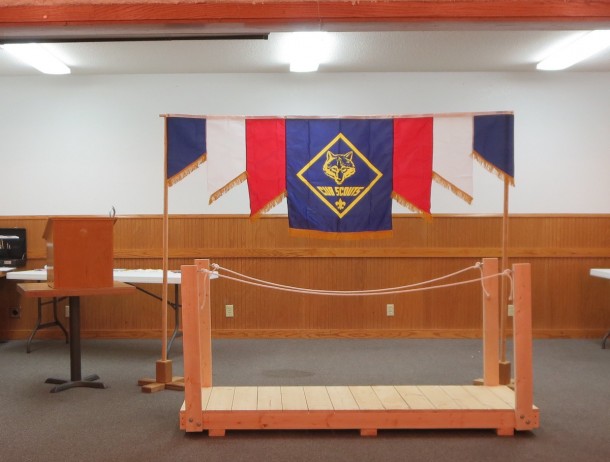 I am constantly amazed by Cub Scouts and the way they look at life. I love the way everything seems to bring a sense of wonderment and excitement to them. The are full of energy and fun, always looking for a good time. And they seem to have a hard time standing still for more then 15 seconds.
A month ago, I talked to one of the Cub Scout fathers about building a small bridge for the May graduation ceremony. We took a quick look through Pinterest for a few ideas before settling on a nice simple clean design (seen in the picture.) The rail boards for the rope railing store inside the bottom of the bridge when not in use. We left it unfinished for now because we have an idea for later. He was able to finish building it in time for the pack meeting. The cost of materials was only about $40.00.
When they Cub Scouts arrived at the May meeting it did not take them long to notice the bridge. In fact, they all wanted to walk across the new bridge. I had to tell them that no one crosses the bridge until the graduation ceremony. You could just see the anticipation build in their eyes.
When the time came for each to cross the bridge all 17 Cub Scouts seemed excited. Yes, they were graduating into their next level of Cub Scouting, but they also were able to walk across this new construction which had not been part of previous graduations. The boys were grinning ear to ear as our committee chairperson removed their old neckerchiefs, turned to me (who was standing on the other side of the stage), and walked across the bridge for the first time to receive their next neckerchief . It may have been a small bridge, but it was a big thing to these Cub Scouts as they moved on to the next phase of their Scouting careers.
Next fall we plan to remove 12 of the 14 floorboards of the bridge. Each den will receive two boards, along with two points of the Scout Law. The dens will decorate their boards based on their two points of the Law and return them next April in time to be added back to the bridge frame. I know we are going to end up with a very unique bridge design. And the best part is that the Cub Scouts will have a stake in the final design, making the bridge truly theirs.
Does your Pack use a bridge in its graduation ceremonies? Leave a comment and let us know if it adds to their excitement like our bridge did for the Cub Scouts of Pack 68.