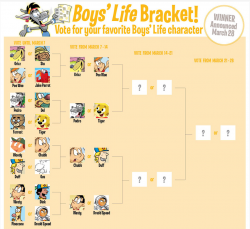 I would guess that most Cub Scouts and many Boy Scouts receive the monthly Boy's Life magazine so they are probably familiar with the cartoon characters found within its pages. But which character is the most popular? Is it Pedro, the burro? Is it PeeWee or one of his friends? How about Gus or Tiger or Dredd?
The folks at Boy's Life have decided to find out and have created a "Boy's Life Bracket" in which you can vote for your favorite character. Round one is now over and the voting in round two has begun. Sixteen characters have been voted done to eight. At the end of the month we will discover who is Scouting's favorite cartoon character.
Cast your vote at:
http://headsup.boyslife.org/vote-for-your-favorite-boys-life-character/
Have fun, and may your choice be ever in Scouting's favor.