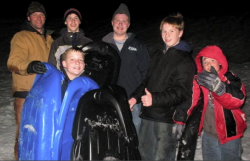 It has become a tradition of Boy Scout Troop 68. Usually, in February or March, the Scouts pack their gear and head to Camp Stearns for a winter outing. The camp is located in central Minnesota, about an hour from town. It is owned by the Northern Star Council of the Twin Cities. The troop rents a lodge to sleep in but the boys spend plenty of time outside having fun in the winter snow.
This video of the Melrose Scout Productions podcast features a slideshow of the pictures taken at last year's Camp Stearns outing. The Scouts had a great time at camp. They worked on advancement Saturday morning. After lunch they put on their snowshoes and played 18 holes of disc golf. In the evening they went to the awesome sledding hill. The boys wrapped up the day by watching a movie before hitting the sleeping bags.
Click here to DOWNLOAD and watch this Podcast.
Or watch it online at the Melrose Scout Productions Podcast channel at PTC Media.
Subscribe to Melrose Scout Productions Podcast through iTUNES(and rate the show)
or at http://feeds2.feedburner.com/melrosescoutingproductions
Leave feedback here, or at iTunes.