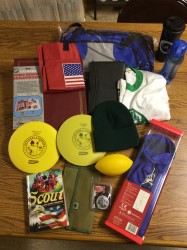 On Monday, December 15th, following the last court of honor for the year, Melrose Boy Scout Troop 68 will hold its annual troop auction.While some troops hold auctions as fundraisers, Troop 68 does things a little differently. Our auction is actually an event for the Boy Scouts to bid on prizes using "troop bucks" they earned during the year.
I began the troop auction when I was the scoutmaster in the 1980's. It became so popular that we have held one every year since then, even after I stepped down as the scoutmaster. The Scouts enjoy bidding on the prizes as if they were participating in a real auction, which they are when you think about it.
The idea for the auction came about as an extra way to encourage the Scouts to participate in troop activities and earn advancement. Attend an troop outing, earn 25 troop bucks. Earn a merit badge, earn 50 bucks. Ranks were valued for 100-200 troop bucks.
The Boy Scouts receive a certificate at the December court of honor with the amount of troop bucks earned during the year. This has no monetary value. Its only purpose is for the troop auction bidding. Any troop bucks not earned this year may be saved and used next year. The certificates expire on the Scout's 18th birthday. Certificates may only be used by the Scouts who's name appears on the certificate. Scouts may not use each other's troop bucks or combine theirs to create larger bids for prizes.
Prices range from small to large items. There is usually something Scouting, like a handbook or a bolo tie. There is camping gear, from water bottles or flashlights to small backpacks or day packs. Of course, there are also items just for the fun of it. There is a $20 cash prize that only the troop bucks earned during the current year can be used to bid upon.
It has been interesting to see which prizes have been popular, or not, over the years. There have been items which I thought would have had a lot of bidding but the Scouts did not care for. There have been items I thought would go for a small amount but instead had a bidding war going on. Every is different.
The picture shows the prizes for this year's auction. What will be the most popular? I am not sure. But it will be fun to find out on Monday night.