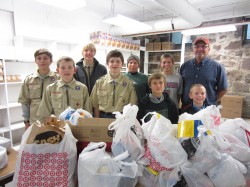 The Boy Scouts of Melrose Troop 68 have completed another Scouting For Food drive this morning, October 5th. The Scouts began shortly after 9:00 am and finished about an hour later. (Melrose is not a very big town.) The troop has been participating in this national Good Turn since it began in 1985.
In past years the council gave troops and packs Scouting For Food plastic bags which were handed out around town one week before the food drive. This year, things were a little different. The council gave out door hangers to hang on the door knobs of homes. There were not any untied white bags floating around town this year.
The Scouts and methods may change, but the purpose of the drive stays the same.