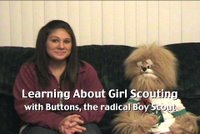 Up until now, Buttons, the radical Boy Scout, has always been about the Boy Scouting program. He has talked about the Scout Oath and Law, being physically fit, how to tell when you know you are a Boy Scout, and has interviewed a Cub Scout and an assistant scoutmaster. Today, he begins to expand his Scouting knowledge into something he has never talked about before – Girl Scouting!
In the United States, boys and girls have separate Scouting programs (except for Exploring). Boy Scouting and Girl Scouting are very different programs even though they share many of the same goals. In both programs the members may chose to earn the highest award available to them. In Boy Scouting that would be the rank of Eagle Scout. In Girl Scouting it is the Gold Award.
I recently had the honor of attending the Gold Award ceremony of my niece and two other Girl Scouts. It was very impressive, and I learned a few things about Girl Scouting that I did not know. I video recorded the ceremony at the request of my sister, and we plan to broadcast it over our local community television station.
After the ceremony, I had the chance to congratulate each of the girls, and ask them if they would be willing to be interviewed by Buttons, the radical Scout. They had all seen a Buttons video or two so they knew what I was asking. To my pleasant surprise, they all said yes to the idea.
This video posting to the Melrose Scouting Productions Podcast is the first of these videos. Ali Kociemba, one of the Gold Award recipients, is the first Girl Scout to be interviewed by Buttons. They discuss the different age groups of Girl Scouting, what some of the awards are, service projects, what Ali did for her Gold award, and what her favorite troop activities were. It turned out to be a nice introduction to Girl Scouting.
You are invited to leave a comment using the link below, or at the iTunes Music Store, or at the PTC Media forums. Drop me an email at webmaster@melrosetroop68.org. It really is great to hear what you think about the podcast videos.
Click here to DOWNLOAD this Podcast
Subscribe to Melrose Scouting Productions Podcast through iTunes.
or at http://feeds2.feedburner.com/melrosescoutingproductions
Check out other Scouting podcasts at PTC Media.