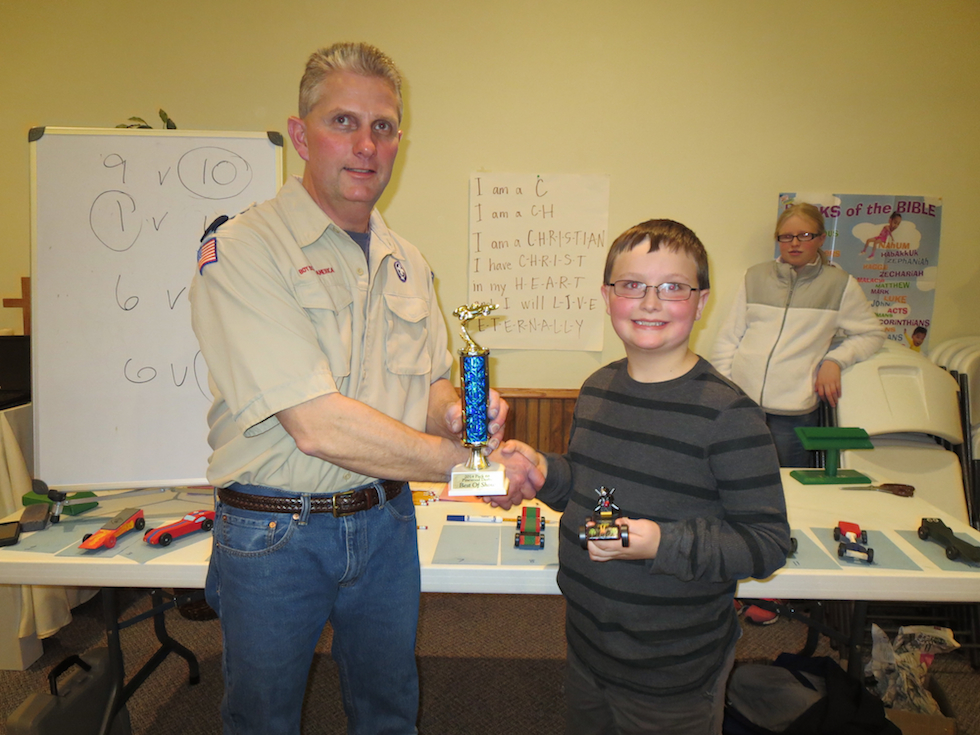 Guess what. It is time for the Pinewood Derby! Has there ever been a more powerful comment that causes so much excitement for a Cub Scout and also creates a higher stress level for his father or mother?
Cub Scout Pack 68 of Melrose, Minnesota, held its Pinewood Derby on Tuesday, February 25. Thirteen Cub Scouts, from Tigers to Webelos, and their families came together at St. Paul's Lutheran Church on the north side of town. It was going to be a fun filled Tuesday evening.
The track had been set up a couple days earlier and everything had been tested. A few Cub Scouts arrived early and had started racing their cars down the track. Unfortunately, their moved something on the track and caused the electronic timer to work improperly. It took the cubmaster and a couple of the fathers several minutes to discover what the problem was and to fix it.
During this time I was taking pictures of the Cub Scouts and their cars. The pack also used this time to have the boys vote on their favorite car design before the races actually began.
The pack leaders decided to run the derby as a double elimination events so the each Scout would be a part of at least two races. While most of the boys took their loses in stride, there was one or two younger ones that took it a little hard. Most of the boys cheered on the ones still racing as the championship bracket began.
The final race for the 1st place trophy came down to the cubmaster's son, Ethan,  and the committee chairman's son, Spencer. Both boys were smiling from ear to ear as I took a picture of them with their cars as they were place on the track.
The lever was dropped. The cars began moving, quickly picking up speed as they moved toward the end of the track. Both cars were nose to nose all they way. It was going to be a photo finish.
Even with a photo finish it would have been hard to declare a winner. Good thing the pack had bought an electronic timer when they purchased a new track last year. The timer showed that Ethan's car had beat Spencer's car… by one thousandth of a second! Could the final race have been any closer? No.
Trophies were presented for the top three places. One trophy was presented for the best looking car. I took plenty of pictures during the event and promised the parents that each of them would get a cd of them all. I also had one of the Boy Scouts sitting at the end of the track recording the races with my video camera. It will be fun to see what he recorded.
How did things go with your pack's Pinewood Derby?