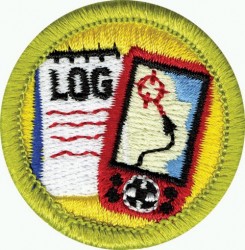 A few years ago the Boy Scouts of Melrose Troop 68 spent a month introducing themselves to the world of geocaching. One parent came to the meetings and showed the Scouts how it was done, and worked with them to find two geocaches located nearby our meeting place. This month, the troop once again visited that monthly theme, but this time brought in a merit badge councilor to help them earn one of the newest merit badges of the Boy Scouts of America (introduced in 2010). For many of the Scouts, this was a new experience and they enjoyed their first hunt during the meeting.
Yesterday, the troop held an outing to work on the merit badge requirements and find the half dozen or so caches in Melrose. Unfortunately, only one Scout showed up for the activity. Sports seemed to be the reason most of the others did not attend, although we discovered one Scout forgot about it and planned something else. Well, the one Scout, the scoutmaster, and the assistant scoutmaster went around town looking for the hidden treasures and found most of them. And they learned a few things. And the Boy Scout and the leaders and a good time.
The Scout and his father, the scoutmaster, stopped by my house when they had finished their searches. Scoutmaster Jim had a few questions about scoutmastering and the Scout was excited to share his day's experiences. In fact, I got caught up in his enthusiasm and before you knew it we were planning to create our own cache in town. I found an old 35mm film canister. We put a paper in it for a log and a red 68 numeral patch to represent our troop. We named it "Scout By Numbers" and found a great place for it near the river in town. Then we posted it to geocaching.com to let others know about it. We are hoping that other Boy Scouts hunt for our cache and trade their troop number patch for ours.
The Scout was so exited about creating a new cache that I believe he will be creating one or two of his own. I just wish the others boys in the troop would have participated in the outing so they could have had the fun that geocaching offers.
Has your troop done any geocaching? Have any of your boys earned the merit badge?