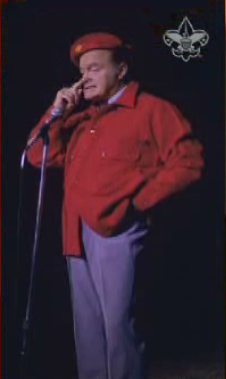 This year's closing arena program at the BSA's 2010 National Jamboree was "totally awesome", as Buttons would say. The Boy Scouts and adult leaders were entertained by Alex Boyé (who sang "Born To Be A Scout" from Scout Camp, The Movie", national recording artist Switchfoot, and Mike Rowe, from Dirty Jobs. I watched the show online, and to tell the truth, it made me wish I was there to experience it.
I attended the 2001 National Jamboree. Our closing arena show was postponed one night due to storms moving through the area. Unfortunately, the acts and guests that were scheduled to appear, including President Bush, were not able to make it the following evening. The show became a program presented and performed by the participants at the Jamboree, just like a council camporee campfire program. And to tell the truth, it turned out to be a great closing program.
I recently came across a bit of information that caught my attention about the 1953 National Jamboree and discovered the arena shows featured well known Hollywood stars including Jane Powell, Hank Ritter, Debbie Reynolds, Will Rogers Jr., and Danny Kaye. But the person that really caught my eye was the emcee of the show, Bob Hope! I had no idea that Bob Hope had a connection to Boy Scouting.
I did some quick research on the internet and discovered that Bob Hope must have had a great relationship with the BSA. The Boy Scouts of America bestowed their highest honor on Bob Hope by presenting him with the Silver Buffalo Award. I do not think many people living today in Hollywood can boast about receiving that award.
I also discovered that Bob Hope starred in a movie, titled The Great Lover, in which he was the Scout leader for a group of Boy Scouts during a cruise. According to one description of the movie, "Mr. Hope stars as Freddie Hunter, a reporter who is chaperoning a troop of scouts aboard a ocean liner. The scouts see it as their duty to save Freddie from himself by making sure he doesn't smoke, drink or enjoy the hug of a woman "other than his Mom". The fact that the head boy of the troop is the son of Freddie's boss doesn't help Freddie when he decides to flirt with the Duchess Alexandria. But women are the least of Freddie's troubles. There is a killer on board. This killer decides to frame Freddie for his murderous deeds. Fortunately, there is a detective on board, hot on the trail of the true murderer, but wait, Freddie discovers the body of the murdered detective. How will Freddie prove his innocence?"
Unfortunately, many of today's Boy Scouts probably do not know who Bob Hope was, and how he was so much more than a Hollywood star. In his own way he was a fantastic leader in this country. He was always one of my favorites when I was young, and know that I now he was a great supporter of the Scouting program, he just went up another notch in my book.