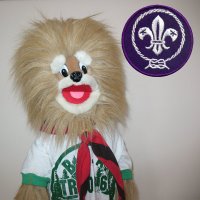 The summer has been busy with Scouting and family activities but I finally felt it was time to add another episode to the Around The Scouting Campfire podcast.
The show begins with Buttons arriving home from an overnight camping trip. A very wet overnight camping trip. He talks with Scoutmaster Steve about a couple of the things he and his troop did during the damp outing. Then, get out your earplugs because Steve tries singing "Scout Wetspers", a song about being flooded when camping. The Boy Scouts of Troop 68 join us for their rendition of a campfire favorite, Singing In The Rain. Buttons talks about when you know you are a real Boy Scout. As the campfire comes to a close Steve's scout leader's minute reminds us about being loyal, and why we are involved in the Scouting program.
Steve and Buttons would like to thank PTC Media (
http://www.ptcmedia.net
) for allowing this program to be a part of their family of Scouting related podcasts. We would also like to thank the Boy Scout Store (
http://boyscoutstore.com
) for sponsoring this show.
And finally, we would like to thank you, the listeners, for downloading Around The Scouting Campfire and sending us your emails. You can contact Buttons at buttonst68@yahoo.com. You may contact Scoutmaster Steve at stevejb68@yahoo.com.
Please rate the show and/or leave a comment at the iTunes store or at PTC Media forums.
Download episode
by clicking
HERE
.
RSS Feed – http://feeds2.feedburner.com/MelroseScoutingAudioPodcast

This podcast is found on iTunes at
http://itunes.apple.com/WebObjects/MZStore.woa/wa/viewPodcast?id=307979159
and is a member of the family of Scouting themed podcasts at PTC Media found at
http://www.ptcmedia.net/
Show notes:
Song For The Wet Campsite – http://www.melrosetroop68.org/2007/07/song-for-wet-campsite.html