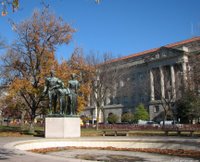 I remember very well when nine members of my Boy Scout troop participated in the 2001 National Jamboree. How could I not remember it? I was the Jamboree troop's scoutmaster. One of my assistant scoutmasters was my Jamboree third assistant scoutmaster. One of my Boy Scouts was the Jamboree troop scribe. Another was a patrol leader. It was a great time, made greater by having many members of my home troop along to share it with.
Before we arrived at the Jamboree, the two troops from Central Minnesota Council spent a couple days in Washington DC to see some of the sites. I remember the Lincoln and Roosevelt memorials, the very quick tour of the Smithsonian Museum, and our walk around the Capital building. But one that will always stay with me is the Boy Scout Memorial. Yeah, that's right, there is a Boy Scout Memorial in Washington DC.
It is a very simple memorial. It is a statue of three people, a man, a woman, and a Boy Scout. It also includes a small pool. According to
kittytours.org
:
"
The memorial stands on the site of the First Boy Scout Jamboree in 1937. The two nearly naked figures represent Manhood and Womanhood; the realistic Boy Scout is leading them into the future.
Next to the statue is a pool which bears the inscription: "In grateful tribute to the men and women whose generosity, devotion, and leadership have brought Scouting to the nation's youth and to honor all members of the Boy Scouts of America who in days of peace and times of peril have done their duty to God and their country this memorial was authorized by the Congress of the United States and erected in recognition of the fiftieth anniverary of the Boy Scouts of America.
"
After viewing the memorial I think I have the same question that many visitors to the statue have these days: Why is a nearly nude statue of a man part of the memorial? Of course, when the memorial was erected in 1964, the views of society were a lot different then they are these days. No matter, it is still a great memorial, and one I am sure will be visited by many of the Boy Scouts who will be attending the 2010 Jamboree.