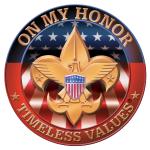 It looks like the Boy Scouts of America may be heading back t the Supreme Court of the USA. According to information found on the BSALegal.org website: Boy Scouts of America and San Diego-Imperial Council, Boy Scouts of America have filed a petition for a writ of certiorari with the Supreme Court of the United States asking the Court to review the Ninth Circuit's recent decisions about Scouting leases in San Diego. The case is Boy Scouts of America v. Barnes-Wallace, No. 08-1222.
All I know about the case is the few articles I have read online, and I may be a bit bias, but it seems to me like the BSA is being unfairly treated by the city of San Diego. The article also states:
The City of San Diego leases two park properties to San Diego-Imperial Council, Boy Scouts of America, which built a campground on one and a youth aquatic center on the other, each of which is open to the public. Boy Scouts have paid millions of dollars to provide these facilities and services to the public while San Diego taxpayers pay nothing.
and
The City has over 100 leases to community organizations on similar terms as the leases to Boy Scouts. The Girl Scouts, for example, lease property for youth camping on park property adjacent to Boy Scouts' Camp Balboa.
The ACLU filed the Barnes-Wallace lawsuit against Boy Scouts and the City of San Diego in 2000, just two months after the U.S. Supreme Court decision in Boy Scouts of America v. Dale holding that Boy Scouts have a constitutional right to select their members. The ACLU tried to force the City to discriminate against Boy Scouts because of their constitutionally-protected membership policies.
The rest of the article can be read at: http://www.bsalegal.org/bsa-legal-blawg-200.asp?i=135
What do you think about this?