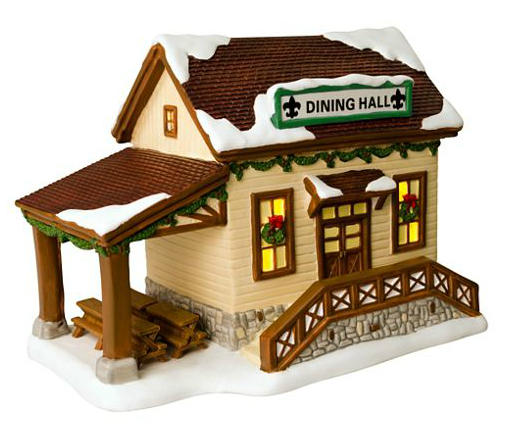 I arrived at the Central Minnesota Council office early for Tuesday night's roundtable so I spent some time checking out the Scout Shop. There was only a couple of us looking around when the clerk asked me if she could help me find anything, like books, awards, Christmas items…
The mention of Christmas items caught my attention immediately. Just last week I had checked the scoutstuff.com website to see if there were any new pieces for the Scouting Village that had began two years ago. I was anxious to see if this village would be continued and what this year's pieces would be. Unfortunately, I found nothing on the website. So when the Scout Shop clerk mentioned Christmas items I had to ask about the Scouting Village.
She replied that they had received the new pieces that very afternoon and have not had a chance to get them on the shelves yet. Awesome, I thought. I asked if I could see them and followed her into the storage room where she opened the carton. I believe I was the first Scouting volunteer in my council to see the new pieces, and this year's building grabbed my attention.
The newest building in the series is the Lighted Dining Hall. I thought is was well designed and quite colorful, but a little small in scale for a dining hall. Only one troop would fit in here, I thought. Oh well, it is a village building piece and they are not in the same scale as the people or even other buildings. It is still a pretty cool looking piece and I am anxious to add it to my set up this year. The website states (Yes, it can now be bought online), "A welcome addition to the holiday Scouting Village, this piece enhances any collection. Porcelain rendering of a BSA camp dining hall is beautifully detailed—complete with outdoor picnic tables!"
The next piece that I noticed was the "Tree Sales" Figurine. I like this piece because it reminds me of the years that Boy Scout Troop 68 sold Christmas Trees as a fundraiser. The website says, "Premium-quality accessory adds character and dimension to your Lighted Scouting Village scenes. Polyresin tree figurine features a Cub Scout, Boy Scout, and Leader hard at work on a Christmas tree sales lot." I have to agree the the figures do add quite a bit to the Scouting Village scene.
The third and final piece of this year's collection is the "Popcorn Tree" Figurine. This piece features a Boy Scout and Cub Scout decorating a Christmas Tree. The site says, "There's nothing more iconic to BSA than popcorn! This polyresin figurine features a Cub Scout and Boy Scout decorating a tree with popcorn garland and ornaments." I thought this could be a great gift for the unit's "popcorn kernel", the chairperson of the popcorn fundraiser.
I bought all three pieces right then. I was not going to wait and have the same thing happen to me that happened two years ago when I waited too long to buy them and missed out on getting the Trading Post. (I still do not have one.) I look forward to late November when I set up my new expanded village. I think this will be the last year I will be able to use that piece of plywood I use for the base.
I was not the only person who bought the set that evening. Within ten minutes of my purchase another set was bought and the Scout Shop was out of the Lighted Dining Halls. Since I am a roundtable commissioner I also took time during the meeting to give a quick shout out for this year's Scouting Village.
Have you been collecting the buildings and figurines? What do you think of this year's additions?
http://www.scoutstuff.org/house-lightd-dining-hall.html
http://www.scoutstuff.org/figure-villg-tree-sales.html
http://www.scoutstuff.org/figure-villg-popcorn-tree.html