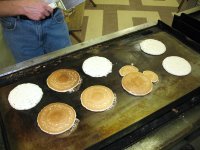 I received an email from Todd at http://latterdayscout.blogspot.com asking for a few more details about our troop's breakfast fundraisers. His troop has been thinking about conducting a breakfast of their own and are looking for some tips and advice. Okay, here are a few more details.
We serve a full meal which includes pancakes, scrambled eggs, sausage (smoked and unsmoked), frosted bread, coffee, milk, and a few condiments. It is an "all you can eat" meal so people know they will get their money's worth. This "all you can eat" policy has seldom been abused by customers. We also allow people to do take-outs.
Tickets prices are very reasonable. Prices for adults are $6.00 in advance, $6.50 at the door. Children's tickets (age 5 to 11) are $3.00 when purchased in advance, $3.50 at the door. Children four years old or younger eat for free.
The number of people we serve varies from year to year and season to season (spring or fall). Melrose is a rural community in central Minnesota with a population of 3300 people. We served 372 meals at Sunday's breakfast which was up about 30 people from last fall, and up about 100 people from last spring. We have served up to 450 people in previous years.
As I stated in the previous post, preselling tickets is a key to having a successful fundraiser. This not only helps to spread the word about the breakfast but you will find people who can not come to the breakfast but will buy a ticket or two as a donation to support the troop. Those sales are one hundred percent profit.
Make sure you advertise the fundraiser. I make up posters to hang around town on my home computer and printer. For more hints about how to advertise for nearly no cost to the troop read my post from a year ago by clicking HERE.
I hope this information is helpful to your troop Todd. If any of you have any more questions please write me.