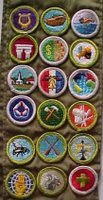 Have you heard about the Scouting Heritage Merit Badge yet? No? Well, that is probably because there is no such merit badge… yet. On the BSA Innovation Engine (found at http://ideas.scouting.org/ ) there are a lot of ideas thrown around for new merit badges. This one happened to catch the eye of Cubmaster Chris and I as we recorded a new episode of the Leader's Campfire podcast last night. During this episode we discuss some of the ideas found on the BSA Innovation Engine, along with Jerry from The Scoutmaster Minute podcast.
The idea for a Scouting Heritage Merit Badge was posted by alobdell. He, or she, gave this merit badge some serious thought before submitting it to the engine. Here is what he/she wrote:
Include Scouting Heritage as a Merit Badge. Many of our Scouts do not know about the movement of Scouting. Requirements could include some of the following.
1. Write an essay about one of the Founders of Scouting. Make a presentation about the origin of Scouting to a non-Scout group such as a Church or civic organization.
2. Learn about Careers in Scouting.
3. Exchange letters with a Scout in another Scout Council.
4. Learn about the World Scouting Organization
5. Conduct an interview with a Veteran Scouter
6. Meet a Scouting Professional
7. Visit your Scout Council Headquarters
8. Learn about the BSA's Adventure Bases
9. Attend a District Rountable or District Meeting
10. Make a display of Scouting information and material for your community to be open to the public for at least one week.
Chris and I agreed that this would be an excellent merit badge idea and a great idea for some sort of Cub Scout level award. To tell the truth, I thought this was one of the best ideas for a new merit badge listed on the idea engine. Chris thought this was a good idea with the 100th anniversary of Scouting coming up in 2010. Jerry had to leave us for a family function before we discussed this during the podcast, but knowing Jerry, he would give his thumbs up to this merit badge also.
Unfortunately, the BSA Innovation Engine is only open to professional Scouters to vote on the various ideas, so Chris, Jerry, and I could not leave a vote for this merit badge. However, Chris has installed a simular engine on the PTC Media site that is open for all of us non-professional Scouters to use.