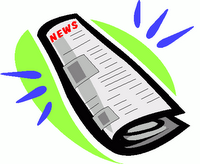 The Sauk Centre Herald is a weekly newspaper published in the city of Sauk Centre, which is the first town to the west of Melrose, the city I call home. The Herald is one of three local newspapers that does a good job of supporting the local Scout troops and packs.
A few years ago I recieved a phone call from one of the Herald staff asking for a picture of the troop. They were planning on doing a full page spread in the issue coming out during Scout week to recognize the area Scout units, and wanted to include pictures of the Scouts and leaders. I was quite impressed when I saw the issue a few weeks later.
Last December I was contacted by Robin who works for the Herald. The paper was planning on doing their yearly Scout tribute again for the first week of February and needed a new group photo. Luckily, she contacted me just before the troop's December court of honor so I was able to get a current group photo.
When the issue arrived on the newsstand I was quick to pick up a copy. Once again, I was very impressed with the job done by the Sauk Centre Herald staff. It was two full pages featuring photographs of troops and packs from four local communities. And it was in full color. And it had other Scouting information included, like the Scout Law and the vision of Scouting.
I told Robin about this blog and asked if it would be alright to share the two page spread with my readers. She was happy to ablige and emailed the full size pdf files to me. After taking the names of the Scouts off the pages (online youth protection, you know) and resizing the pages a bit, I have up loaded them to the troop's website. Click a link and take a look. See if you do not agree that the Sauk Centre Herald did a great job.
Page 1 (Boy Scouts)
Page 2 (Cub Scouts)
Wouldn't it be great if all local communities did something like this for Scout Week?