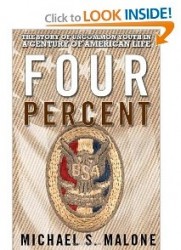 I will admit that I have fallen behind on listening to the Scouting podcasts to which I subscribe, so when I recently took a trip to the Twin Cities I decided to catch up on listening to a couple episodes of the Scoutmaster Podcast found at scoutmaster cg.com. In episode #137, Clarke Green interviews author Mike Malone about his book Four Percent, a history of Eagle Scouts of the Boy Scouts of America. I really enjoyed the stories Mr. Malone shared about three of the most well known Eagle Scouts (listen to the podcast to find out who) and some of the changes to the Eagle Scout program during the last hundred years.
After listening to this podcast I wanted to get a copy of the book. Unfortunately, it is only available as an ebook through Amazon and iTunes. While I have read a couple ebooks on my iPad, I prefer to actually have a real book in my hands. I also think it would make an excellent gift for an Eagle Scout. Mr. Malone stated that his publisher is planning to publish an actual book sometime in the future but there are still some things to work out before that can happen, including getting the rights to use pictures within the book. Until then, it is the ebook or no book.
If you would like to listen to this special episode of the Scoutmaster Podcast you may download it at scoutmastercg.com.