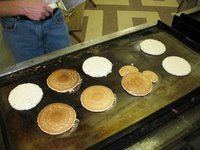 Your pack or troop is planning to hold a fundraiser. Is it a one day event, such as a meal or a car wash? If it is, then you need to get the word out about it. You need to promote it.
How do you do that? And how can it be done for little or no cost to your unit? After all, if you have to pay for advertising, then you have to sell more product to cover those costs. Here are a few tips our troop has learned over the last twenty years. (Some of these may work better in a small town then they do in a large city.)
Newspapers – Placing an ad in a newspaper can be expensive, but some newspapers will give non-profit groups a little discount on the cost. Our local papers have a "local events" listing which lists group activities and fundraisers for free. Does yours?
Television – Commercials can make a newspaper ad look very inexpensive. However, some stations will air a "Community Happenings" spot during local programming free of charge. You will need to get the information about your event to the station three to four weeks before the event's date. Many community access television stations run a bulletin board of local events between their programming. Your fundraiser could be listed there free of charge.
Radio – Some radio stations will do public service announcements. Your fundraiser may qualify as such an announcement. Or bring some tickets of your event to the station and let them give them away to a lucky caller. Volunteer to be interviewed on the air by the deejay. Look at how much promotion the Girl Scouts receive by bringing cookies to radio stations during the sales period.
Marquees – Almost every bank and credit union has an outdoor electronic marquee these days. Our financial institutions will place information about our fundraiser on their marquees, free of charge, for two or three days before the event.
Posters – This has got to be one of the oldest ways to advertise. Posters can be easily designed on a home computer and then printed in large or small quantities. Many stores, restauraunts, offices, churches, and schools have cork boards for the placement of these posters. Some businesses will even place the posters in their front window. Just be sure to ask permission before placing a poster.
Church Bulletins – Contact your local churches. Most of them would be happy to include your event in their weekly parish bulletins.
Electronic messaging – Send out emails to friends and family. Text your friends on the phone. Just do not do it so much that people start looking at it as spamming. We even post a note about the event on our troop's website.
Speaking – Yeah, that is right. Talk about it. Tell your relatives. Tell your friends. Tell your coworkers. Talking has worked for centuries. Spread the word, man!
Well, there is my list. How does it compare to yours? Did I give you any ideas? Do you have ideas that I did not mention? If you do then leave a comment and share it with us all.