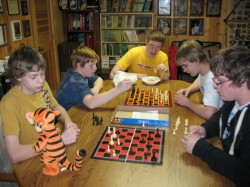 Several years ago, the patrol leader council included a winter troop activity in their yearly program plan that became know as the overnighter. It was an all night outing that would begin at 6:00 Saturday evening and end at 7:00 Sunday morning. They talked me into holding it at my house. I guess they liked my ping pong table, dart board, Legos, board games, and dvd collection. It kept reoccurring on new yearly program plans.
I did not mind, too much. The boys enjoyed the games and the social aspect of the outing. The parents seemed to like the idea that it was not at their house. After all, who would want a dozen or so teenage boys staying up all night playing games and watching movies in their house?
The boys were usually well behaved. They are Boy Scouts, you know. That is probably why I kept hosting the outing. That and the fact that when it was time to go home, I was already home.
I have noticed that my body does not approve of the all night activity. The boys are up all night, which means I am awake all night until the Scouts go home Sunday morning. I have a hard time sleeping during daylight hours so it usually takes a few days for me to recover from the loss of sleep.
Troop membership has been dropping in Melrose for the pass few years. Only three Scouts (and one dad) of the eight members attended the overnighter this last weekend. Due to small turnout we were not able to have the usual tournaments and competitions. Don't get me wrong though. The three boys still seemed to have a good time, but it bothered me that five did not attend. I know one Scout had a family function to attend, but the other four did not give a reason for missing the outing. I have a feeling that they do not think the outing is worth their time anymore.
I have also come to the conclusion that I have no desire to host any more of these activities. Or attend them. If the patrol leader council wishes to include another overnighter on next year's program they will have to find somewhere else to hold it, and another adult to take my place. It is time for the younger parents to take over chaperoning this event. This body has no desire to participate in another one. But I would attend one until midnight or so.