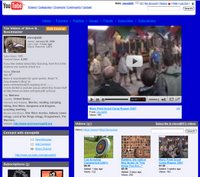 I place my first video on the YouTube video website on January 8, 2006. It was a video made by one of my Boy Scouts as a project for a class project. He knew that video work was a hobby of mine and that I had the equipment needed to produce a simple film, so he asked me to help him with making it. Since it was a class project I told him he had to do the planning, directing, and editing. I would film it for him and provide the equipment to use after showing him how to use it.
Nathan did a great job producing and editing the video. We were both pleased how it turned out. So was his teacher. Nathan received an A as his grade. I had started watching videos on YouTube about that time so I asked Nathan if we should post it online for others to watch. He agreed, we posted it, and my channel on Youtube began.
There are now 67 videos found on my Youtube channel, which can be seen HERE. Most of the videos are Scouting related. The videos include videos produced by the BSA and videos made by the Scouts of Troop 68 and myself. I also started a Youtube group called Boy Scout Stuff which people have joined to share and watch Scouting videos from around the world.
My YouTube channel hit a milestone today sometime between 2:00 and 3:00 pm. The total "video views" of the videos I have posted has reached 250,000. Wow! The videos have been watched a quarter of a million times. I guess it goes to show that there are people out there who do want to watch videos and films about Scouting. (Are you reading this National?)
When I began posting videos on YouTube there were only a few hundred Scouting related films. Today, there seem to be thousands of them. Many packs and troops have been posting videos online for families members and friends to see. I think it is great, as long as we all follow the safety guidelines set by the National Office to keep our kids safe.
Earlier this year I took the online video thing to the next level by starting the Melrose Scouting Productions Podcast (MSPP). The podcast allows people to easily download the videos to their computers to watch at any time. It can even be subscribed to on the iTunes music store. The videos found on MSPP are videos produced within our troop. Videos by the National Office can not be found there, at least not yet. I have been hoping that the National Office would start their own podcast that would feature those videos.
I would like to thank all of you who have watched the videos and brought my YouTube channel to the 250,000 landmark. I have some ideas for more videos and hope you enjoy them as well. Happy Scouting!