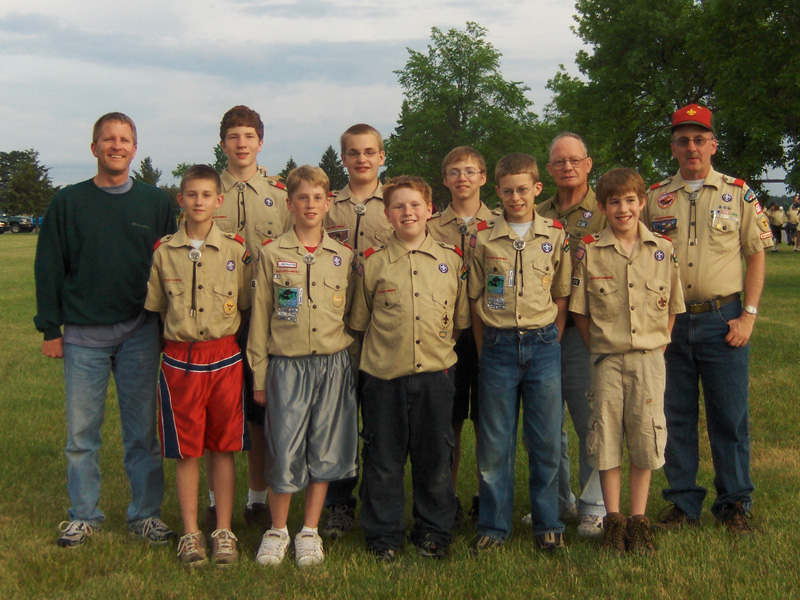 Here are a few interesting facts about the Boy Scouts of America. As of December 31, 2005, the total membership of Boy Scouts and Varsity Scouts was at 943,426 young men, nearly one million strong. The were 50,996 Boy Scout troops and Varsity teams. There were 543,971 registered adult volunteers.
Think about that for a moment. Over one half of a million adults in this country believed in the ideals, spirit, and goals of Boy Scouting so much that they were willing to give their time to help the BSA accomplish its goals to our young men. That is quite a statement.
So, what are the goals of the Boy Scouts of America? The BSA was incorporated in 1910 to provide a program that offers effective character, citizenship, and personal fitness training to our boys and young men. To quote the official BSA website (www.scouting.org), "…the BSA endeavors to develop American citizens who are physically, mentally, and emotionally fit; have a high degree of self-reliance as evidenced in such qualities as initiative, courage, and resourcefulness; have personal values based on religious concepts; have the desire and skills to help others; understand the principles of the American social, economic, and governmental systems; are knowledgeable about and take pride in their American heritage and understand our nation's role in the world; have a keen respect for the basic rights of all people; and are prepared to participate in and give leadership to American society."
That is an ambitious set of goals for any organization to meet, especially one that has been designed for boys. The BSA has been accomplishing these ideals for over 97 years. The organization is able to meet these goals through eight methods: Ideals (the Scout Oath, Law, Slogan, and Motto), Patrols, Outdoor program, Advancement, Association with adults, Personal growth, Leadership development, and the Uniform.
Many of the half million adults are parents of Scouts who wish want their boys to get the best experience out of their local Scouting unit. There are many more adults who do not have sons involved in the program. They are college students, middle age workers, retirees, single and married. They come from all walks of life.
On Tuesday, September 25, Cub Scout Pack 68 and Boy Scout Troop 68 of Melrose will be holding their annual fall "School Night To Join Scouting". This meeting will begin at 7:00 pm at the Melrose High School Cafeteria. Boys in the first grade through fifth grade are invited to join the Cub Scout Pack. Boys in sixth grade or higher are invited to join the Boy Scout Troop. Boys must be accompanied by a parent.
So… Why not Scouting? Why not enroll your son in a program that has over 95 years of experience in helping our boys and young men develop into tomorrow's outstanding citizens? And have fun while they are doing it! We hope to see you and your son at School Night To Join Scouting on Tuesday, September 25th.
(This is an article that was sent to our local newspapers to promote School Night.)