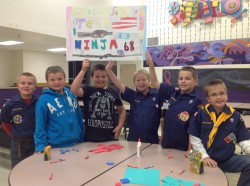 Cub Scout Pack 68 of Melrose held their first meeting of the new program year last week Tuesday at the high school cafeteria. After the opening ceremony, Cubmaster Mark sat down with the new and older Cub Scouts for a short talk. Then the boys split off by age group to different tables to create posters representing their dens. At least one parent sat down with each group to help get them started.
It was fun watching the Scouts get down to business. Crayons, markers, foam sheets, and glue were available to create the 18″ x 24″ tag board posters. The foam sheets allowed the boys to add a third dimension to their artwork.
The six Webelos Scouts went right to work. It did not take them long to agree to a Webelos Team Ninja theme. There was only one Bear Scout and one Wold Scout in attendance so they worked together to create a poster featuring a bear print and a wolf print. The first grade Tigers needed a little help getting started but in a short time they were just as focused on their masterpiece as were the Webelos Scouts.
Once the cubmaster saw that the boys were all busy he called the parents together in another part of the room for a short meeting. After several minutes I noticed a couple of the mothers glancing around the room with confused looks on their faces. I knew it was not about anything the cubmaster was talking about so I asked them what was on their mind. At least two of them were surprised to see the boys still working together on their posters without any adult supervision at any table.
That is right folks! The Cub Scout dens were completing a goal on their own without an adult looking over their shoulder and telling them what they should do. Even the first graders were working hard. Granted, the parents were still in the room but the boys were working on their own, by age group, each group working together on their poster. And they were having fun!
I honestly believe this may have been the first time these mothers have noticed their sons working and playing with other boys without having an adult watching over their shoulder and guiding their every move for more then two minutes at a time. Kind of amazing, isn't it?
Welcome to the world of Scouting!